Schedule of Events
Friday, April 5

11:00 am
Lavaman Family, Health, Sports & Fitness Expo Opens - Hilton Waikoloa Village, Kona Ballroom Foyer
11:00am - 3:00pm

5K Sunset Run Registration and Bib Number Pick-up at Lavaman Expo - Lavaman Expo, Kona Ballrooms - Hilton Waikoloa Village

After 3:00pm registration will be at Queens' Marketplace across from Macaroni Grill

11:00am - 5:00pm
Lavaman Athlete Packet Pick-up - Kona Ballrooms, Hilton Waikoloa
5:00pm - 5:15pm

Lavaman 5K Sunset Run - Queens' Marketplace
awards, prizes, and fun for all ages
to register visit: lavamantriathlon.com
Saturday, April 6

7:30am - 10:30am

LavaKids Aquathon - Hilton Waikoloa Village

advanced registration required
to download an application, visit: lavakids.org

10:00am - 5:00pm
Lavaman Athlete Packet Pick-up - Kona Ballrooms, Hilton Waikoloa
Sunday, April 7

5:30am - 7:00am
Transition opens for bike racking and set up - Anaeho`omalu Bay Parking Lot
7:00am
Self-seeded Age Group Start - 4 athletes enter the water every 5 seconds
9:20am
First Finishers
10:30am - 1:30pm
Live Music
10:30am - 2:00pm
Beer Tents Open
10:30am - 1:30pm
Barbecue Buffet Opens - Canoe Corral at Anaeho`omalu Bay
12:30pm
Awards - Stage at Anaeho`omalu Bay
3:30pm
BIKES MUST BE PICKED UP FROM TRANSITION
* Shuttles will be available on Friday & Saturday between the Queens' Marketplace and The Hilton Waikoloa Village for a nominal charge. It is recommended that athletes park at the Queens' Marketplace to avoid parking fees at the Hilton. Please do not park in 'no parking' areas. We want to be welcome guests of the Waikoloa Beach Resort.
** Race Day Parking will be at Anaeho`omalu Bay and the Queens' Marketplace. Road to Anaeho`omalu Bay will be closed from 7:00am until 11:30am (no entrance or exit) during the bike portion of the race.
FRIDAY & SATURDAY April 5 & 6
Pickup your Packet at the Lavaman Expo at the Hilton Waikoloa Resort at the following times:
Friday, April 5th: 11am – 5pm
Saturday, April 6th: 10 am – 5pm
Each athlete must present a photo ID and pick up their own packet. If you have an annual USAT membership you must present your membership card (photocopy is acceptable)
New for 2024: Friends, family and other athletes can pick up another athletes packet with a copy of the athletes photo ID, USAT card if they are an annual member, and a note giving them permission. This can be written, email or text. The note must include the name of the person picking up the packet. That person much show ID.
If you have any concerns about packet pick up times, please contact lavamaninfo@gmail.com
Mahalo
Lavaman Venue Overview: This map show the entire Lavaman Venue with traffic information.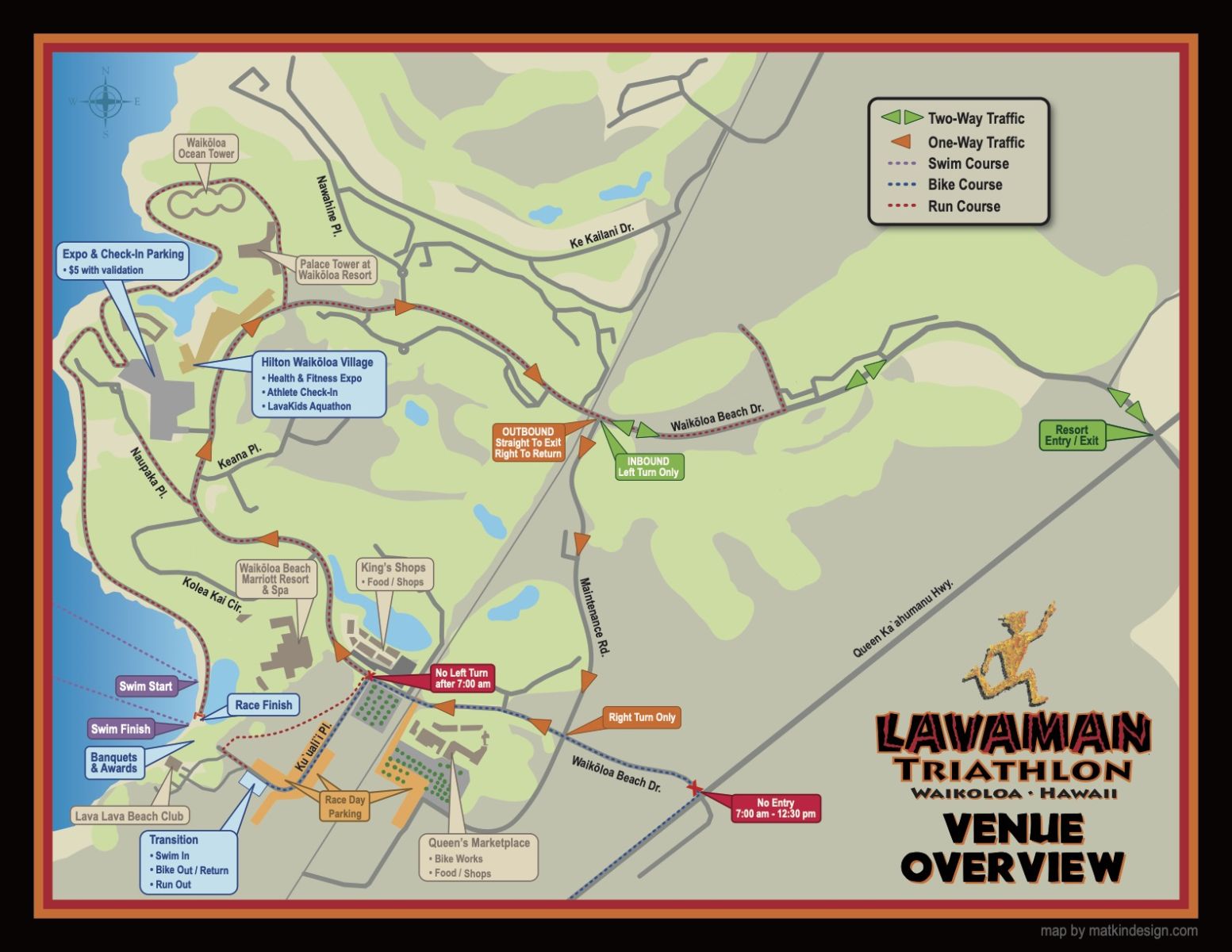 Lavaman Expo and Check in: Athlete check in and the Health and Fitness Expo will be located in the Hilton Waikoloa Village. See map for more details.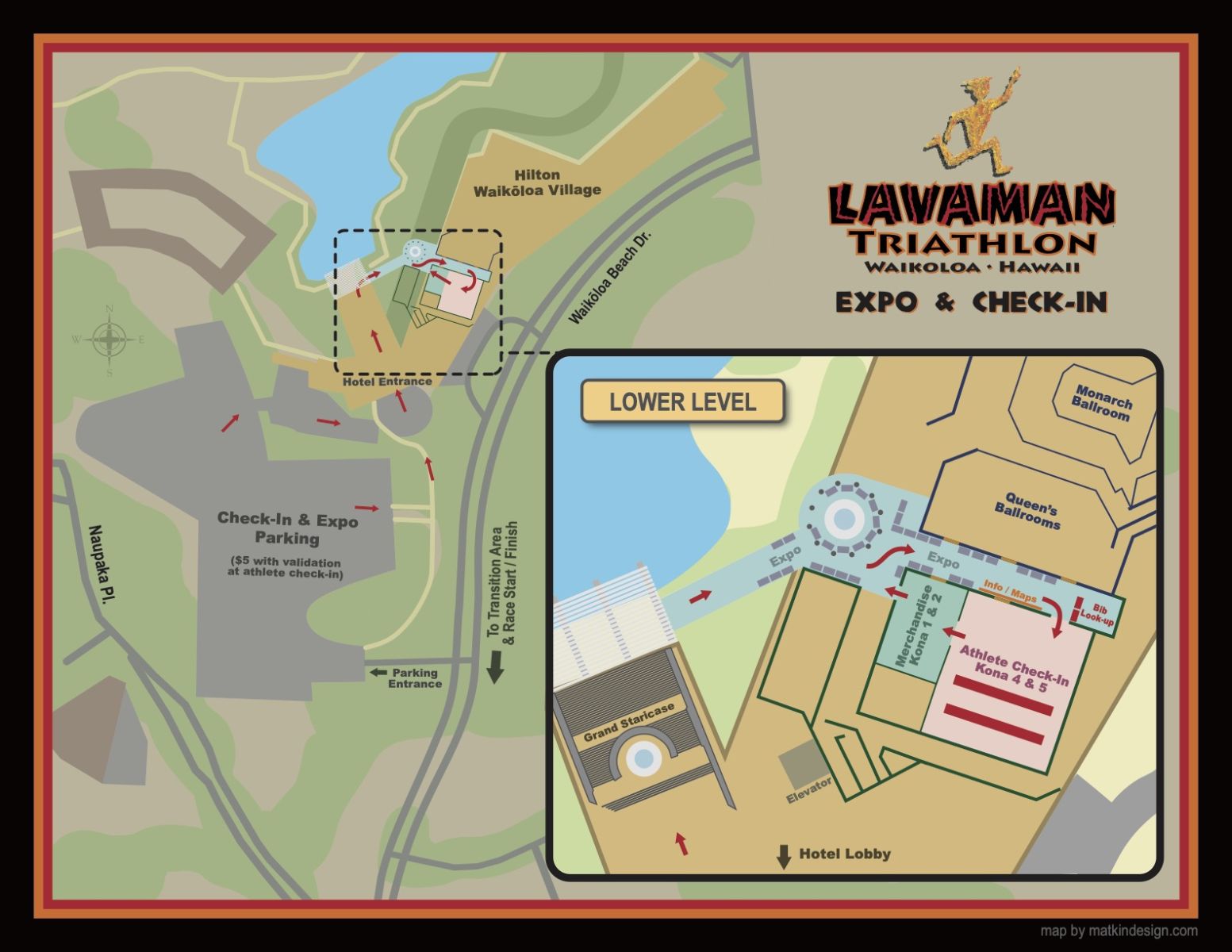 Lavaman Event Parking: Event parking is located next to transition. Please see the map below for parking locations. Athletes should arrive early. The road to the venue will close at 7am to vehicle traffic. Overflow parking is behind the Queen's Market. Spectators can walk from the overflow lot.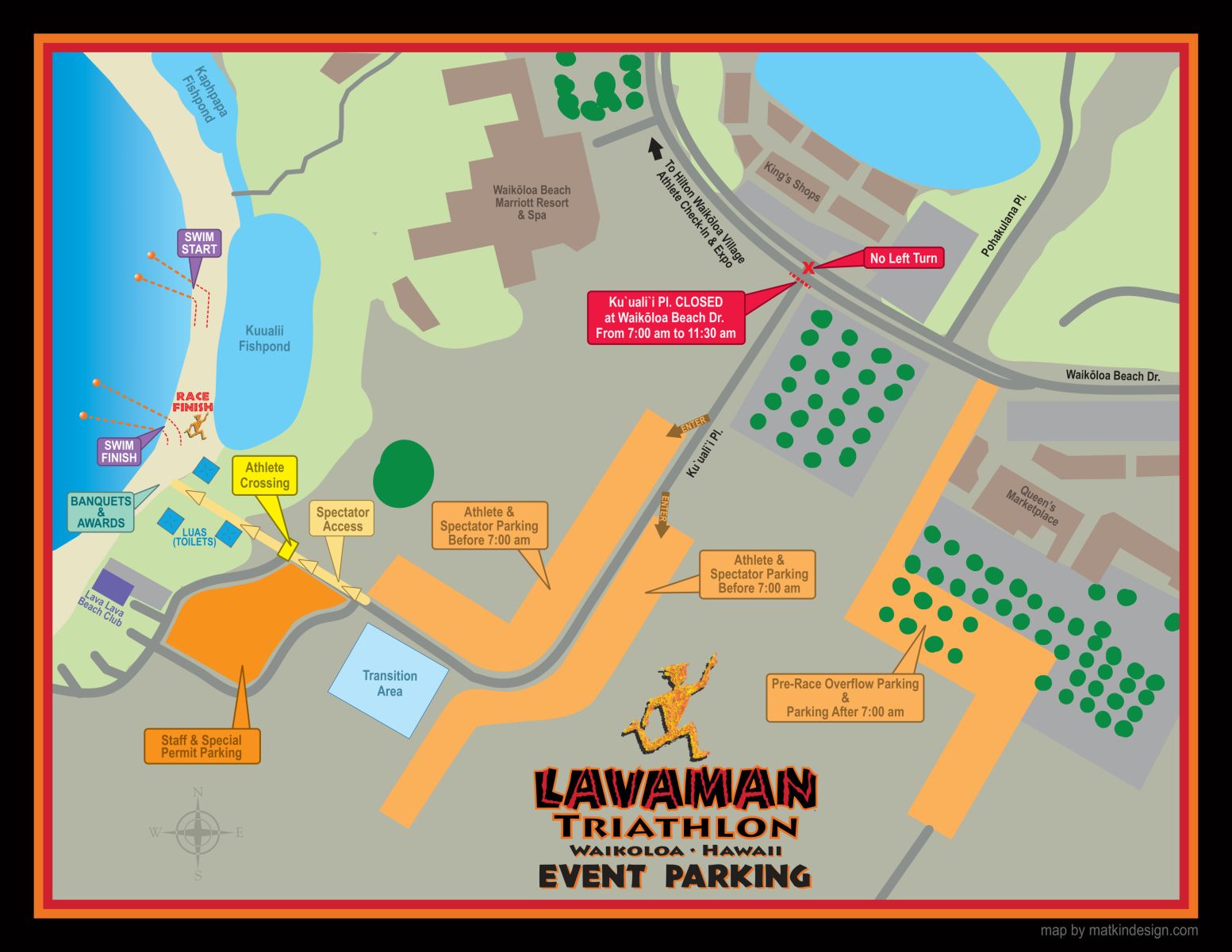 FREQUENTLY ASKED QUESTIONS
GENERAL REGISTRATION QUESTIONS:
Discounts for Veterans: There is a discounted entry fee for veterans and active duty service members. Proof must be provided at Packet Pick-up or the difference will be charged. This is for the Competitor only and not for family members. Although the Lavaman does not grant refunds, an exception may be made for Veterans being unable to compete due to Active Duty Service.
Kama'aina Rates: Kama'aina Individual Competitors' will receive a $25.00 entry fee reduction. Proof of residence will be required at Packet Pick-up. Hawaii Driver's License, State ID, or a current utility bill in your name with a Hawaii address. If this cannot be shown at Packet Pick-up you may be charged the $25.00 Fee. This is for individual's only and not for relay teams.
Registration Inclusions: Race entry, Dri-Tech custom race shirt, 25th Anniversary hat, sling bag, silicone swim cap, bike frame & helmet #'s, transition bag with #, finisher medal, awards & "The Best Party in Triathlon" beach banquet.
Additional Fees for Athletes: USAT one-day license fee if you are not already a member, chronotrack service fee, credit card fee & taxes.
USAT Insurance; All participants are covered by the USAT Event Sanctioning Insurance for injuries incurred during the race. You can read the extent of this coverage by going to the USATriathlon.org. This coverage is for what your own insurance may not cover.
Third Party Insurance for Athletes; Please make sure to read the full Lavaman Refund Policy on the Lavaman Website and you will be required to accept this policy when you register on Events.com. To help cover yourself in case of an illness, injury, job change, etc. you may want to consider the third-party insurance provided through the Event.com Website through Fanshield. This is not insurance provided by Lavaman or Events.com. It is between Fanshield and the Athlete. It is important to read the coverage and exclusions so you know what is covered as not all situations are.
Event Cancellation Insurance: Although Lavaman is covered for event cancellation in the case of Natural Disaster, weather, etc. but this coverage, nor any coverage we could find covers COVID or any pandemic. In the event of any future cancellations, we will as we have done this past two years, try and provide as many alternatives as we can to accommodate athletes in future races. Again, please read the Refund Policy to better understand these options, as once again you are agreeing to these policies when you register on Events.com.
ACCOMMODATIONS:
HILTON WAIKOLOA VILLAGE: The Hilton Waikoloa Village is our Presenting Sponsor and Host Hotel and has been for 21 years. There is a special Lavaman Room Block at a substantially discounted price to their published rates. There is also a partial waiver of the Resort Fee for those who would like. We recommend that you contact and reserve your room as early as possible as the rooms are limited. You should use the link on the Lavaman Website which will go directly to our discounted block. If there are not longer rooms in that block, please let us know as we may be able to purchase a larger block.
MARRIOTT WAIKOLOA: This year we have added a special block of rooms for Lavaman Athletes at the Marriott Waikoloa. The Marriott is located next to the finish line and within walking distance to the transition in the morning. Refer to the Travel tab for the link to the Marriott room block. If there are not longer rooms in that block, please let us know as we may be able to purchase a larger block.
RENTAL CARS: Rental cars on the island go fast. Book your vehicle early.

LAVAMAN RACE QUESTIONS:
Will the Lavaman April 7, 2024 be the same course as the previous Lavaman? At this time, the course should be the same. Since the run course runs through the Hilton grounds, slight changes are always possible.
What is the schedule for packet pickup? Packet pick-up will be Friday April 5 and Saturday April 6 from 11am – 5pm. Athletes must pick up their packet during that time. Check the Packet Pick up tab section on the Athlete Page for the most up do date info. Athletes must pick up their own packet. Family and friends are to pick up another athletes packet with a copy of the athletes ID and a written or electronic note from the athlete.
Are bike rentals available? Yes, Road Bike rentals through our sponsor BikeWorks are available locally in the Waikoloa Resort and Kailua-Kona. Reserve a bike early because sizes and quantities are limited. Contact Bikeworks Beach & Sports 808-886-5000 and/or Bike Works Kona 808-326-2453 or reserve online at Bike works Beach & Sports: https://bikeworkshawaii.com/rent or Bike Works Kona: https://www.bikeworkskona.com/bike-rentals-kona/
*Please note, bikes may not be rented more than 90 days in advance.
Transition Area… Can a family member/friend help me get set up before the race? The Area is a secured and only identified athletes are able to enter prior, during, and after the race.
If I am unable to compete on Race Day or not able to complete the course, what must I do? Please notify a Lavaman Race Official ASAP and give your bib number. We must make sure every Athlete is accounted for! Your entry is not transferable!
Can I wear a wetsuit, goggles/facemask and use a snorkel? Wet suits can be worn however there are water temperature restrictions in order to be able to qualify in your age group for awards. Please check the USA Triathlon Guidelines. Goggles and face masks are allowed. Snorkels, Fins and paddles are not allowed. Refer to the Swim Rules in the drop down menus.
Will I be able to get air in my tires on Race morning? Typically tires can lose air overnight. Do your best to have your bike Race ready, but there will be Bike Tech support and sufficient bike pumps at the Transition Area in the Morning to assist you if needed.
Is there a water stop on the Bike course? There is not a water station on the course. Be sure you have adequate water for the duration of the ride. There is an aid table and water available in transition.
Will the bike course be closed to motorists? You will share the road with vehicles. Vehicle traffic is controlled within the Resort area. The Highway portion will have vehicles on it. For your safety you must ride completely on the wide shoulder and not cross over the white line. Please follow the rules of the road and follow the direction of Course Marshals and Police.
If I have a problem with my bike on the course what are my options? If you can fix it, or you can wait for one of the Bike Tech Teams to come by and give you some assistance. Be sure your bike is in good working order. If in doubt, take to your local bike shop and have it inspected and repaired before the race!
Is there a recommended type of running shoe? Footwear is a very important aspect of your race. The Lavaman Run Course is through all type of terrain including gravel, Lava rock, corral and sand. A shoe with All-terrain type tread is good for traction.
Will there be Hydration Stations on the run course? There will be 5 Aid stations along the run Course. Water, Ice, Gatorade and snacks will be provided at each aid station.
Where can I find additional Race Course information? The "Course" tab and select Swim, Bike, or Run and review the maps and important Safety information and other details specific to that segment of the event.
RACE DAY QUESTIONS:
1. Will there be a post-race banquet this year? Yes, there will be a beach barbecue buffet, live music and Liquid Aloha from Kona Brewing Company.
2. How will I know where to go on race day? Please refer to our schedule of events on our website under the registration schedule tab on our website.
3. What time will my swim go off? The swim will start at 7am.
4. Can I purchase banquet tickets for my family? Additional banquet tickets are available for purchase during registration, can be added to your registration after the fact, or can be purchased at packet pick up. The cost is $65 + tax. We will also accept cash at the entrance to the banquet.
Should you have any additional questions about rules or safety please email lavamaninfo@gmail.com
LAVAMAN – 2024
IMPORTANT PRE-RACE INFORMATION FOR ALL COMPETITORS
MAKE SURE YOU READ THIS PRIOR TO ENTERING THE PACKET PICK-UP LINE AS YOU WILL NEED TO SIGN THAT YOU HAVE RECEIVED THIS INFORMATION.
ANY QUESTIONS, GO TO THE RACE QUESTIONS Table IN THE EXPO.
ANNOUNCEMENTS:
1. The 2024 Lavaman will be most likely be wet-suit legal. Water temperature is usually around 77 degrees Fahrenheit & the cut off is 78 degrees.
2. Current projected weather conditions for Race Day will be updated closer to race day.
3. USA TRIATHLON RULES: There will be course marshals specifically looking for:
a. Helmet requirements – chin strap must be fastened prior to crossing the
Mount/Dismount Line. – DQ
b. All bar ends must be plugged. Please notify a volunteer if you need plugs
c. Do not mount your bike before the Mount Line. 2 Minute time penalty
d. Make sure you have dismounted your bike at the Dismount Line. 2 minute time
penalty.
e. No Drafting or Blocking – 2 minute time penalty if called.
f. Do not cross over the white line on the highway. This could be a call for
disqualification. DQ
g. Un-sportsman like conduct to other athletes or volunteers DQ
h. Disobeying the instructions of Race Officials, Police or Security DQ
COURSE AND PROCEDURAL CHANGES FOR 2024
REGISTRATION
1. No in-person Pre-Race Meeting – Instead review the attached information and any questions can be answered at the Lavaman Race Questions table in the expo.
2. There will not be body marking for Lavaman in 2023
3. You must wear your numbered swim cap
4. Your wrist band will be put on you at Packet Pick-up. This is your ID and your ticket to the banquet and for free beer. Those under 21 will have a special wrist band.
5. TIMING CHIPS – You will pick up your timing chip after you rack your bike. Be sure to double check that you have the right numbered timing chip. Fasten it securely around your left ankle. No chip/no time so guard it closely.
6. DROP-OUT CLERK: If you drop out at some point during the race, it is your
responsibility to notify the DROP-OUT CLERK and return your chip to timing. To notify the DROP OUT CLERK – text 801-550-2194 and leave your name and Bib# and the time you are dropping out.
AID STATIONS
1. There will be 5 aid stations on the run course.
2. Transition Aid Stations, T-1 & T-2 will have: Water, Gatorade, bananas, oranges.
3. Run Aid Stations:
#1 & #3 Water, Gatorade
#2 & #4 Water, Gatorade, Boulder Salt
#5 Water, Gatorade & Coke
SWIM
1. ROLLING WAVE START – Your time starts when you cross the timing mat so each athlete has their own individual start time instead of the time of a mass start. We realize that there are many that prefer a mass start, however after seeing the rolling start in other races, we feel that the rolling start is both fairer and safer.
ALL ATHLETES MUST WEAR THEIR ASSIGNED SWIM CAP.
a. The swim will be counter clockwise from the north end of the beach.
b. There will be no Open category this year. All athletes will line up together.
c. Age Group athletes will self seed by anticipated swim time. 5 athletes starting at 5 second intervals will enter the water continuously until all swimmer are in the water. Volunteers will be holding signs indicating total swim times. Line up behind the sing. Faster swimmers should seed themselves closer to the sign with slower swimmers further away.
d. No Novice Wave – With the spread of the rolling waves and the width of the course, we have determined that there is no longer a need for the Novice Wave. With the spread of the swimmers created by a rolling start, the novice swimmers can elect to swim to either side of the course to keep from being swam over by faster swimmers.
e. Swim Start at 7AM. Athletes will begin lining up in the swim corral a soon as they are finished setting up transition and no later that 6:45.
f. Although it is mostly sand bottom where you will be entering the water to start your swim, there are some rock or coral outcroppings. Volunteers will be in the water to help direct you around them.
g. SWIM CUT-OFF IS 1 HOUR AND 10 MINUTES AFTER YOU CROSS THE TIMING MAT. If you do not make the cut-off, but continue to race, your results will be unofficial. You will be listed but will not qualify for awards or rankings.
BIKE
1. Riders must listen to all course marshal instructions.
2. NO HALF-WAY BOTTLE DROP or AID STATION – All athletes should go out with two full water bottles as there will not be a bottle exchange at the bike turn-around. There will be a Water Monster near transition if you need to fill your bottles and an aid table in transition.
3. There is no aid station on the bike course. Please have enough water, nutrition and use the porta potty before getting on the course.
4. Follow directions of volunteers at the Kukio Tunnel when asked to slow down. Turns are sharp and tunnel is narrow. NO PASSING IN THE TUNNEL.
5. REMEMBER TO STAY IN THE BIKE LANE, GOING OVER THE WHITE LINE INTO THE TRAFFIC LANE COULD LEAD TO DISQUALIFICATION. SLOW BIKES KEEP TO THE RIGHT. PASSING IS ONLY ON THE LEFT.
6. Drafting is not allowed at any point on the bike course.
7. When turning back off of the highway into the Resort, you will be crossing two lanes of traffic that are controlled by Police. Carefully follow the instructions of Police and Course Guides. Although, the bikes have the right of way, use extreme caution here as ultimately it is your responsibility to be on the lookout and aware of the traffic. Cars are bigger than you and it is a battle you do not want to be in.
8. All riders must be on the course by 10:00 am.
9. THE BIKE CUT OFF IS 11:30am . We will begin pulling slower riders off the course at 11:15.
10. This is a USA Triathlon Triathlon sanctioned event. The full list of competitive rules can be found here: https://www.usatriathlon.org/multisport/rules
TRANSITION
1. Slow down as directed as you round the corner to enter transition & dismount at the DISMOUNT line and do not remove your helmet or unbuckle your helmet strap until you have crossed this line.
2. Always stay to the right of the cones as there are bikes coming and going at certain times.
3. RELAY TEAMS – The tag area & chip exchange is at the Bike. There will be a corral next to Transition for Relay Team members to check their items and wait for their team mates to approach. From the corral you will be able to see them approach and do not go into the transition area until they have entered on their bike. Then go to the bike, exchange the timing chip and off you go. Don't forget the timing chip as again no chip/no time.
4. When placing your items in Transition, all of your items must be to the left of the bike or on the bike. No backpacks or bike pumps should be left in Transition. There will be plenty of bike pumps available in transition to use on race morning.
RUN
1. Be careful as you head out on the run course as the first 300 yards of the course are across a lava trail.
2. Run course is well but gently marked and has course guides at all critical turns. Make sure to listen to their instructions.
3. Run course also goes through the grounds of the Hilton Waikoloa Village. Pay close attention to the markings here, especially If you have done the race before. We will no longer be using the portion of the old Kings Trail that had been used in the past as its condition has deteriorated over the years. The course now goes by the pool decking and again there will be volunteers to guide you through this change. Course distance remains the same.
4. The finish of the run course is the hardest part and the slowest part of the course. You will walk/run over a coral trail along the water and in places will need to walk; pick your way through it. Then once through it, you are rewarded with about 300 yards of a sand finish. We saved the best and hardest for last.
FINISH LINE
1. When you cross the finish line you will be handed a nice cold can of water These have screw tops and are refillable at our Water Monsters which will have filtered iced cold water. These are recyclable so when finished with them for the day, please deposit in the Recycle Container at one of our Sort Stations
2. You will then get your Race Medal.
3. Remove your timing chip and deposit in one of the buckets at the finish line. There will be a few volunteers to help you if needed.
4. There will be an aid station for Finishers that will have: Coke, oranges, bananas, pretzels and cookies.
5. Then you can exit the Finish Chute and greet your family & friends & enjoy some Liquid Aloha from Kona Brewing Company.
6. When in the Finish Chute, keep moving forward so that finishers after you have enough room as well.
TIMING
1. Remember – no chip/no time.
2. There will be a Results Tent on the beach where you can punch in your Bib # and get your times. Your placing within your age group will not be accurate until your age group has finished due to the rolling starts so you may want to wait several minutes after your finish to check.
3. There is a QR code posted on the website, at the Pre-Race booth here at
Registration and will be posted in several spots at the Race. This may be used by your family and friends to track you on the race course and for you to check results at the end. Punch in either the Bib # or name and it will give the time that each athlete has: started the swim; started the bike; crossed the bike turn-around; started the run; passed the run turn-around and finished.
4. Post Race timing issues should be addressed to jim@jtltiming.com to sort out.
POST RACE AWARDS BANQUET
1. Your wrist band is your ID for the Beer Booth, the Banquet Line and for retrieving your bike. Please do not remove it.
2. The beer booths and banquet will open about 10:30AM with the live band starting at the same time. The awards will start about 12:30 PM. The banquet line and beer tents will close about 1:30.
3. For families and friends who want to join their athletes in eating, Lava Lava Beach Club will be open and they can purchase lunch there. Athletes may sit at Lava Lava with their families and friends even if they are eating the buffet lunch. There will be two spots and Lava Lava where athletes can enjoy their free Kona Brew and their bar will be open for drinks for purchase for family and friends.
4. Unfortunately, alcoholic beverages purchased at Lava Lava cannot be brought onto the beach. They can however be consumed in the grass area next between Lava Lava and the beach and we will have beach mats there to sit on.
5. For those that need to pick up their awards early to make a flight, there will be a Lavaman tent set up next to the stage where the band will be playing. Providing the results for your age group are complete, you may pick up your award and there will be a back-drop where you can take your picture. There will not be announcements there until the band is done and the Awards begin.
6. Remember all bikes must be removed from the transition area no later than 3:00PM. We have to be out of there and trucks loaded by 5:00PM so this is necessary so we will not be responsible for bikes not picked up by this time.
LAVAMAN GOING GREEN
Lavaman is making a concerted effort to lessen the footprint left behind in terms of what goes into our landfill and environment. A lot of work has gone into helping to reach this goal and we sincerely hope our Competitors will make the extra effort to see that we achieve
this. There Is a short video on the website regarding this and what you can do to help. Here are a few of the steps we have taken.
1. To help with the elimination of as much single use plastic as possible, we have gone to refillable aluminum cans for water at the Finish Line and for the volunteers; and use of paper, compostable cups for the aid stations & compostable cups for the beer.
2. Plates, napkins and forks for the banquet are all compostable as well as are the left-over food.
3. Cardboard is also being recycled.
4. Your Role: Cooperate with the disposal of your goods at the Sort Stations that will be on the beach. There will be members of our "Green Team" there to help you sort so we make sure to not contaminate the compostable and recyclable
materials.
A HUGE MAHALO FOR YOUR COOPERATION HERE!!! DON'T FORGET TO THANK THE VOLUNTEERS!
BE SAFE AND SEE YOU AT THE FINISH TO CELEBRATE THE BEST PARTY IN TRIATHLON
2024 RACE DATE – SUNDAY, April 7, 2024
Click a year below to view that year's race results.
1999 - 2000 – 2001 – 2002 – 2003 – 2004 – 2005 – 2006 – 2007 – 2008 – 2009 - 2010 – 2011 – 2012 – 2013 – 2014 – 2015 – 2016 – 2017 – 2018 – 2019 – 2022 – 2023
Lavaman 2023 RACE PHOTOS ON-LINE NOW for all events. Follow the links given below.
A couple points of note:
For those that preordered during registration, a link will be sent so they can download their photos. People should check their spam folder in case the email gets caught there.
Link to Lavaman Photos and "Be sure to upload a selfie for the chance to find more photos when your number wasn't visible to our cameras!"
Any athlete questions should be directed to support@finisherpix.com
Lavaman link to photos: https://www.finisherpix.com/en/event/6029/